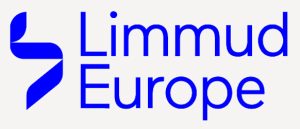 Dear Limmudnik!
This is the Limmud Europe logotype!
The world changes and so does the Limmud organization.
For some years now, several national Limmud groups have been working to form an overall organization for the teams within the European Union. The goal is to develop cooperation between the teams and enrich the national activities.
Limmud Europe was formally established at the beginning of June. The organization's official seat is in Amsterdam. Limmud Europe officila website is www.limmud.eu

In the menu bar at the top of the page, you can now click on the heading Limmud Europe, which will lead you to a page with links to current Limmud events around Europe. It will also mean a few more information messages from us to you, but of course we will avoid filling your mailbox to the brim. Participate & enjoy!

Warm welcome to our Limmud Europe World!